Anni Kytömäki (Finland)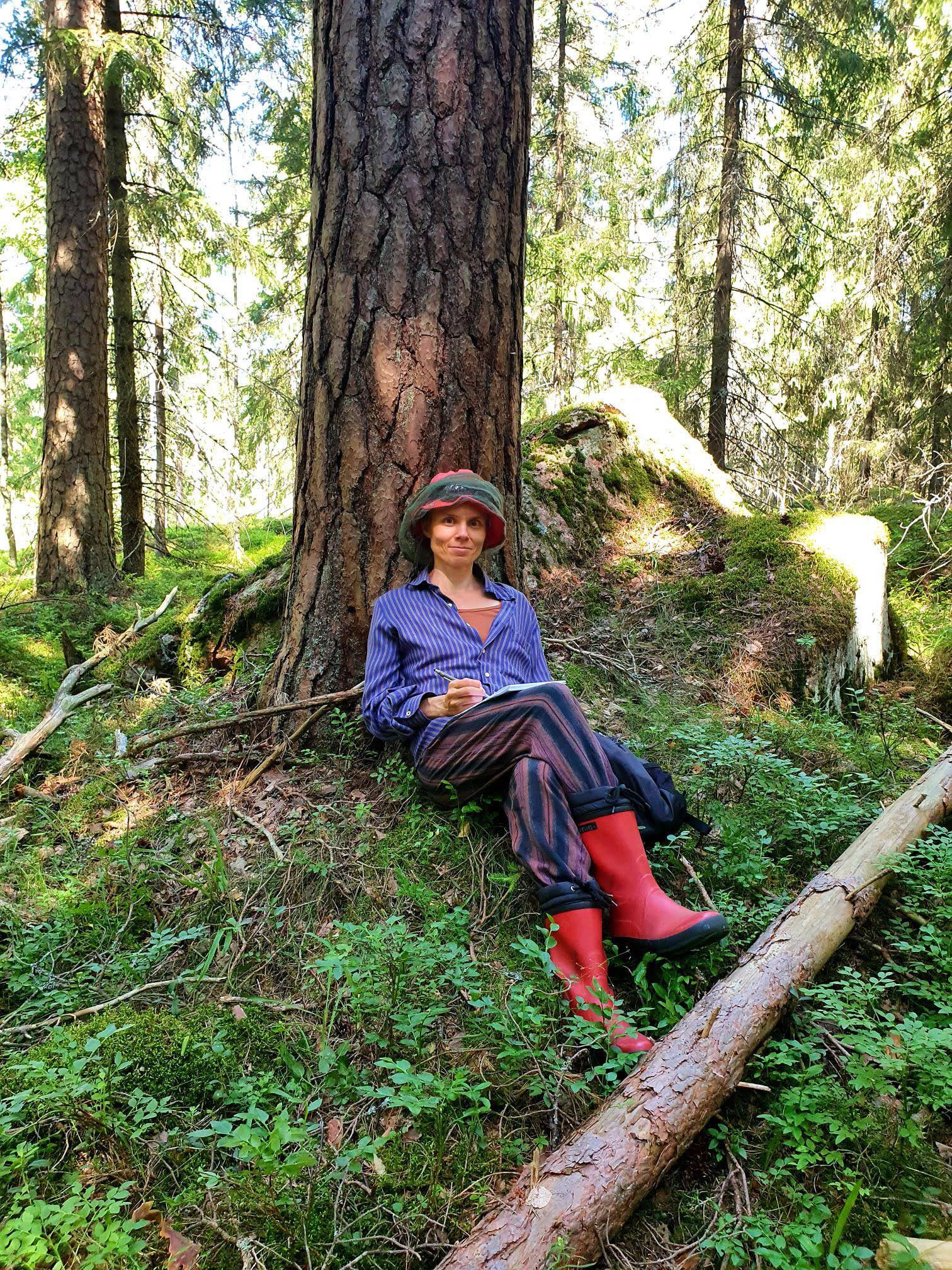 Anni Kytömäki (b. 1980) is a writer from Southern Finland, whose works portray humans as a part of nature, rather than above it. In her novels "Kultarinta" (Goldenbreast), "Kivitasku" (Stone Weaver), and "Margarita," she tells stories of non-conformists, people who have been defending forests, swamps, and cliffs long before the present time. Kytömäki is fascinated by the deep roots of nature conservation and pacifism, often considered phenomena of modern times.
In her novels, Kytömäki reminds us that humanity has long aspired towards something better than what we seem to be achieving at the moment. Her second important message is that we are not alone on our planet. In the novel "Kultarinta" (2014), alongside humans, the bear takes on a protagonist role, and in the novel "Margarita" (2020, translated into Estonian in 2021), the narrator is at times a freshwater pearl mussel. The freshwater pearl mussel, which has lived on Earth since the time of dinosaurs, is now an endangered species, as it does not survive water pollution and river damming. In Estonia, freshwater pearl mussels only live in one river in Lahemaa National Park.
Kytömäki's novels have received several awards, and "Margarita" won the most prestigious literary award in Finland, the Finlandia Prize, in 2020. The book was translated into Estonian in 2021 (translated by Toomas Tallo, and published by Vesta Raamatud). This is the first translation of Kytömäki's works.
The events in "Margarita" mainly take place in the 1950s, when Finland was recovering from war and rebuilding society. Due to economic demand, forests were extensively logged, and efforts were made to derive as much benefit as possible from the human population. It was recommended that every woman give birth to at least six children to ensure a sufficient number of soldiers in case of a new war. The life of the protagonist, young masseuse Senni, is endangered due to this goal. At the same time, the freshwater pearl mussel living in the depths of the river loses its home as the sheltering trees are logged from the shores and the riverbed is dredged straight. Both humans and river mussels are victims of "well-being," but their shells prove to be resilient.
Reflecting on the theme of this year's festival, Anni Kytömäki says: "It is said that history teaches. At the present time, it seems again that nothing has been learned. New generations are being drawn into war – a war that threatens not only humans but also all other inhabitants of the Earth and entire ecosystems. Once again, soldiers, pacifists, fathers, mothers, children, leaders, workers, entrepreneurs, artists, people from different parts of the world see and experience horrors that make us say, 'I didn't know it was like this.' My impossible dream is that from birth, it would be clear to all human beings that war is exactly like this – more terrible than anyone can imagine. Then wars would become part of history."
Wednesday, May 10th 18.30 at the hall of Tartu Literature House