Literary Festival Prima Vista 2024: "Futures Better And Worse"
Our festival asks how literature and the arts today imagine the future of humanity. What do they see there, and what would they like to see? What are they warning us against and guiding us towards? How can art help to create the future?
We live in an overdeveloped, impenetrable, constantly emergent and unpredictable cultural space, surrounded by general ecological instability and a constant threat of catastrophe. In such circumstances, it is increasingly difficult to think big, make long-term plans and implement those collectively. Utopias and dystopias are artistic tools that precisely educate and stimulate the imagination in the face of such challenges. 
More information: European Capital of Culture Tartu 2024
2023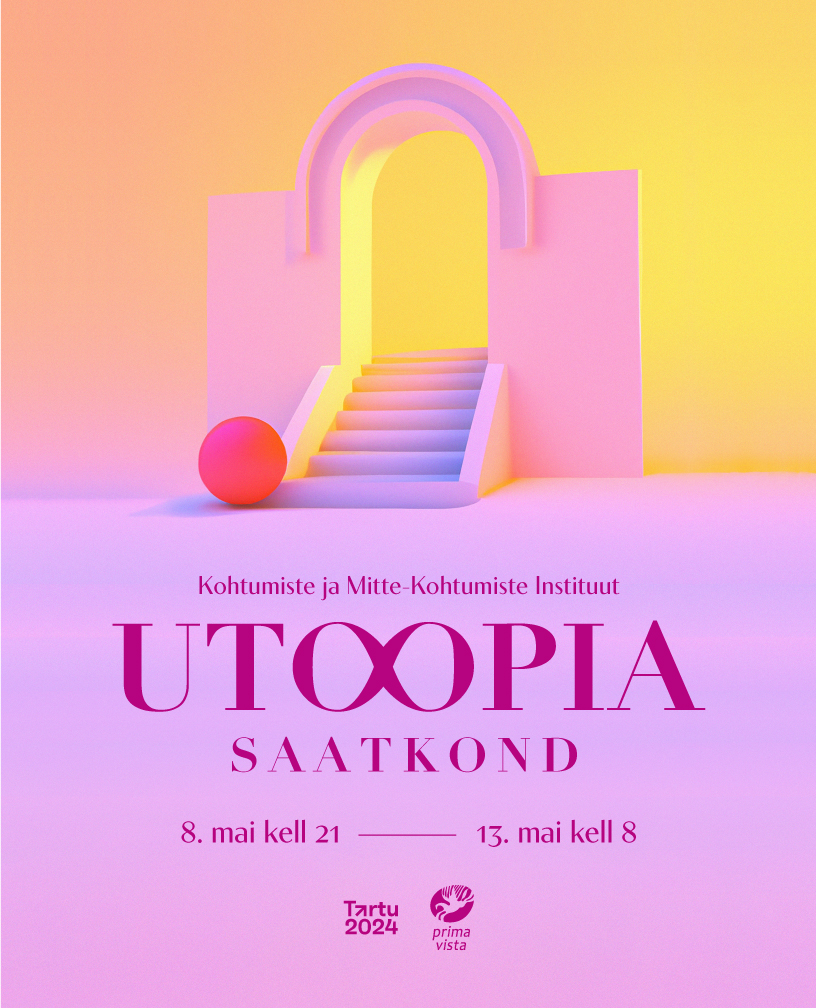 The Embassy of Utopia is a space and thought experiment whose doors are open from May 8th to 13th as part of the Prima Vista literature festival and Tartu 2024 European Capital of Culture program. 
The Embassy of Utopia is a sanctuary for positive uncertainty, bold thinking, and untamable imagination. It is a meeting place for poets who never write any poetry and those for whom writing is the only possible form of existence, vagabonds on their way to new tomorrows, and archaeologists whose shovels dig into the sands of the future.
The Embassy of Utopia offers a space for ideas that are too wild to fit into newspapers with long and illustrious histories, too audacious to be spoken by politicians' greased lips, too poetic to find readers in the murky depths of the internet, yet too beautiful, too painful, and too important to leave unspoken.
From the evening of May 8th until the early hours of May 13th, the Embassy of Utopia will host five keynote addresses and 550 speeches about longing for a different existence. The five speeches open the doors to a world of boundless imagination every night at nine o'clock. They will be given by Mehis Heinsaar, Maarja Pärtna, Cloud Circuit, Hans Platzgumer, and Clara Amaral.
The 550 speeches will be delivered by people — writers and judges, poets, students and teachers, foresters and businessmen, editors, critics, activists, architects, actors and explorers, lost, forgotten, famous and unknown, academics and non-academics — people who seek their way through the same fog and look at the same sun that shines on all of us.
2022
On the 14th of May 2022, a public meeting with the lyrical self took place in front of the University of Tartu Library, followed by a poetry celebration in the courtyard of Tartu Literature House and the Cultural Club Salong.
On the last day of Prima Vista 2022, everyone had a unique opportunity to meet a true giant of world culture and intellectual history, whose importance in shaping and perpetuating our language, culture, and national consciousness cannot be underestimated. The public meeting with the lyrical self was a performative contemplation that addressed the ways poetry exists in culture, the reality that surrounds us, and, above all, in the heart of every individual. Isn't it true that poetry shapes us as much as we shape poetry?
"The Public Meeting with the Lyrical Self" was a pre-event of the Literary Festival Prima Vista 2024 which will take place as part of Tartu 2024, the European Capital of Culture.
The event was preceded by a poetry chain where everyone had the opportunity to recite their favourite texts.
Poetry enthusiasts began reading on Friday (May 13th) at 4:00 PM and continued reading texts uninterrupted until the same time the next day (May 14th).
2021
On Saturday, September 25, 2021, Tartu Literature House transformed into a grand luxury hotel (or rather, a decadent small-town hostel), with employees led by concierge Paavo Matsin, porter Jaak Tomberg, head chef Maret Tamm, and the University of Tartu literary circle Ellips, who were ready to welcome guests from the farthest corners of the universe. With the participation of many acclaimed Estonian writers, a colourful and kaleidoscopic array of events took place, addressing LITERATURE and the FUTURE while ceremoniously celebrating the 100th anniversary of the renowned Polish science fiction writer Stanisław Lem.